HTHREE Shoes - Basic Information

HTHREE shoes use a standard shoe last, but the lasts used for the 3.4cm series are slightly narrower.

Heeled shoes and leather shoes are not the same as sports shoes, casual shoes or shoes with large lasts. Even though our shoes are adjusted for comfort, they will not have the same "feel" as sports or casual shoes. Rather, our shoes are personalized and fitted to your foot size and shape.

When selecting plain-heeled shoes, strapless flat shoes or heeled shoe styles, we recommend that you choose a form-fitting shoe with no gap in the heel. Since new leather shoes tend to be more rigid, the shoe will feel tight and rigid  the first few times you wear them. After you've worn the shoes a few times, the leather will begin to stretch and the shoes will become more and more comfortable.

Since our 3.4cm shoe last is smaller than a standard shoe last, we recommend that you select a half-size larger than usual for our heeled shoes and strapless shoe styles, and one size larger than usual for our strapped style or Munk style.

European and American shoe brands and Asian brands have different shoe size systems, so corresponding sizes on the HTHREE size chart will differ by about half a size. The size information may differ depending on the brand. If you are unable to confirm, we suggest that you convert the sizes into centimeters for best accuracy.






HTHREE Size Selection Notes
When determining shoe sizes, we suggest that you consider the types of occasions for which you'll be wearing the shoes, your feet's swelling tendency and the condition of the shoes you wear on a frequent basis. It is also helpful to check if the size of your current shoes is "just right," or if there is a small space or gap at the back of your shoes.
Refer to the guide.

Determine the appropriate size on the HTHREE size chart according to foot length & foot width measurement method provided by HTHREE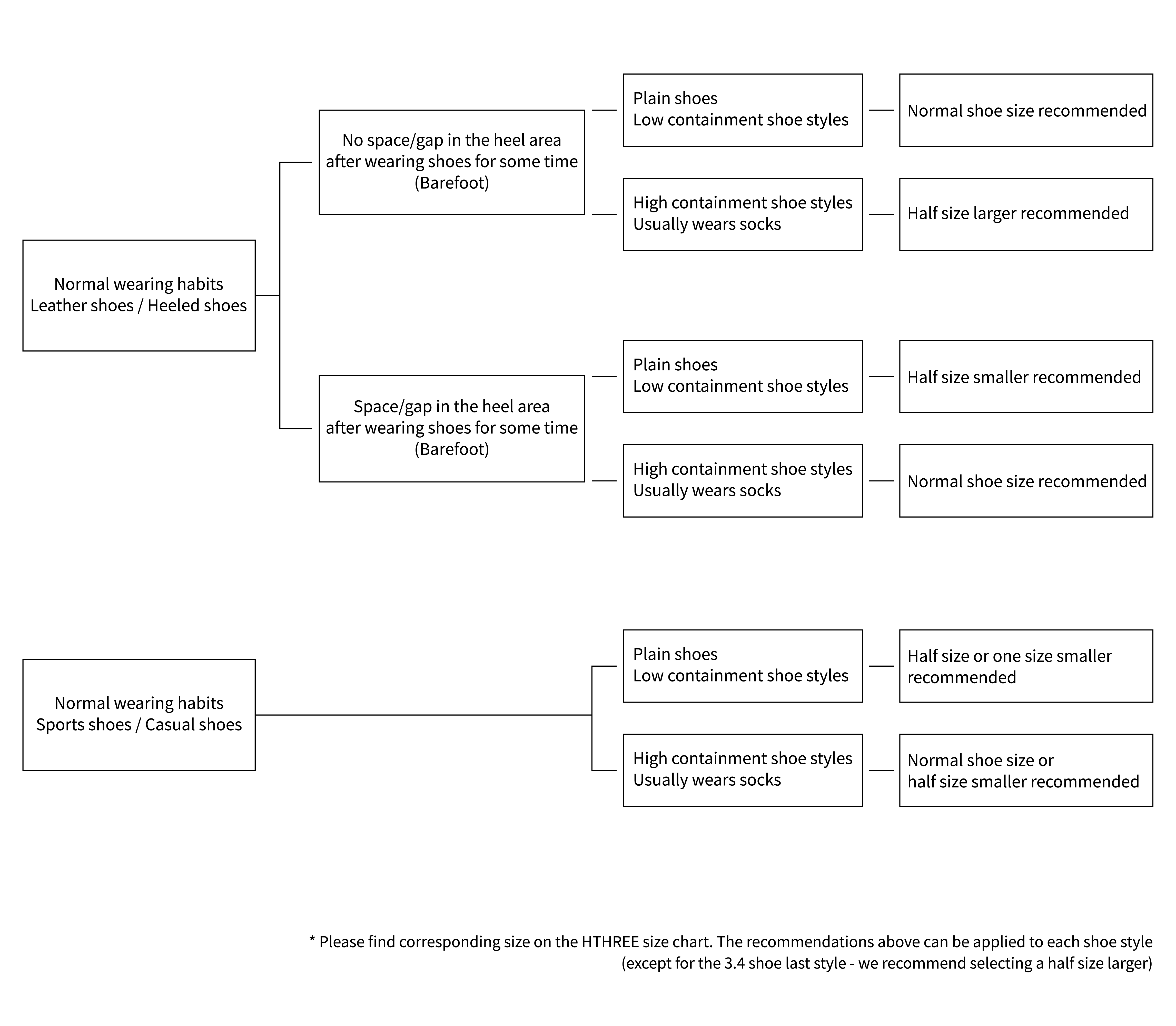 Determine the appropriate size according to your foot length and foot width.

Measure and outline the size and shape of your foot with the provided footprint image.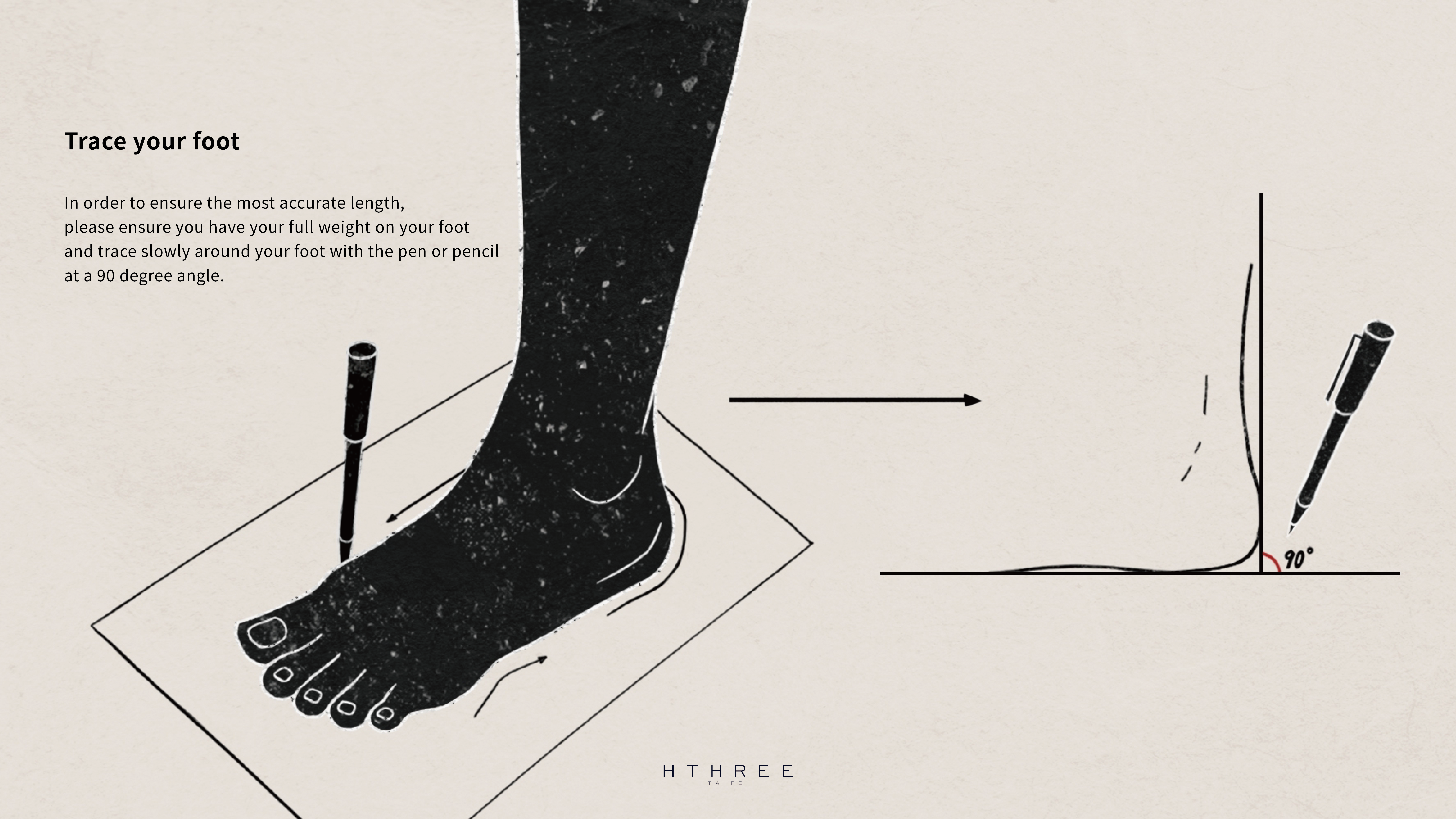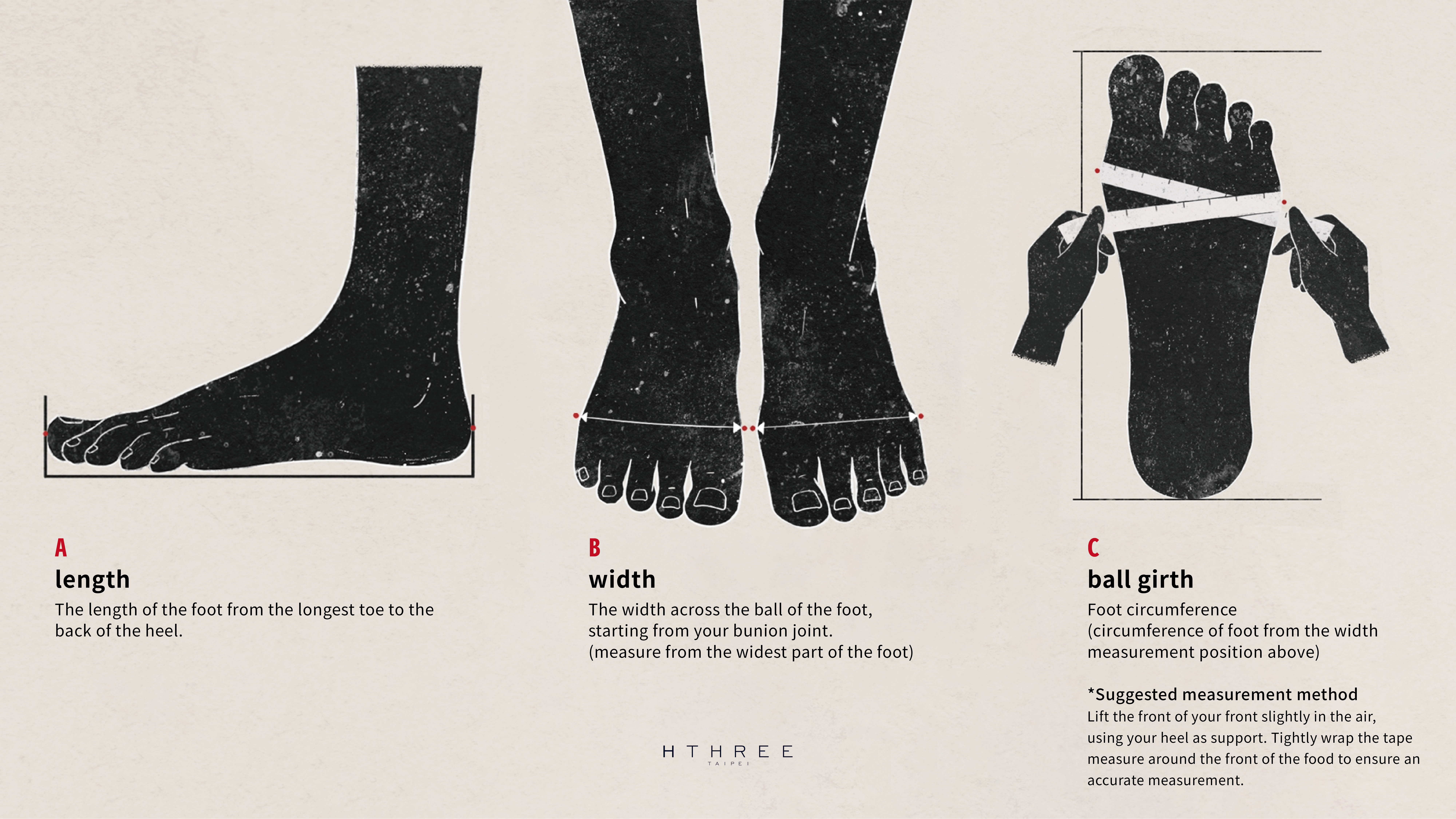 Drawing Diagram:

Use the size information from the completed drawing to determine the corresponding shoe size on the HTHREE Size Guild.